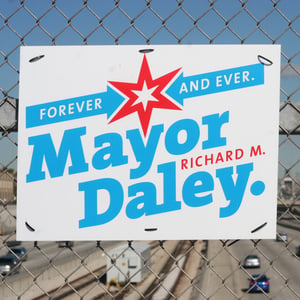 $

29.99 - On Sale
Perfect for framing.
Communication artist Nick Adam created this image in celebration of a legacy.
Title: "Forever and Ever. Mayor Daley."
Size: 18" (height) x 24" (width)
Technique: Silkscreened on coroplast
As seen on the streets of Chicago. Covered through out the news. Showcased at the Chicago Urban Art Society.
Signed by artist, Nick Adam.
Each piece is produced in the USA, utilizing identical production techniques of political campaign signage.
var a2a_config = a2a_config || {};
a2a_config.linkname = "Mayor Daley Forever";
a2a_config.linkurl = "http://mayordaleyforever.com/";